Pumpkin Bars and Playing in the Leaves:
Traditions Worth Making
Debi Bernish, Guest Blogger, Health and Wellness Advocate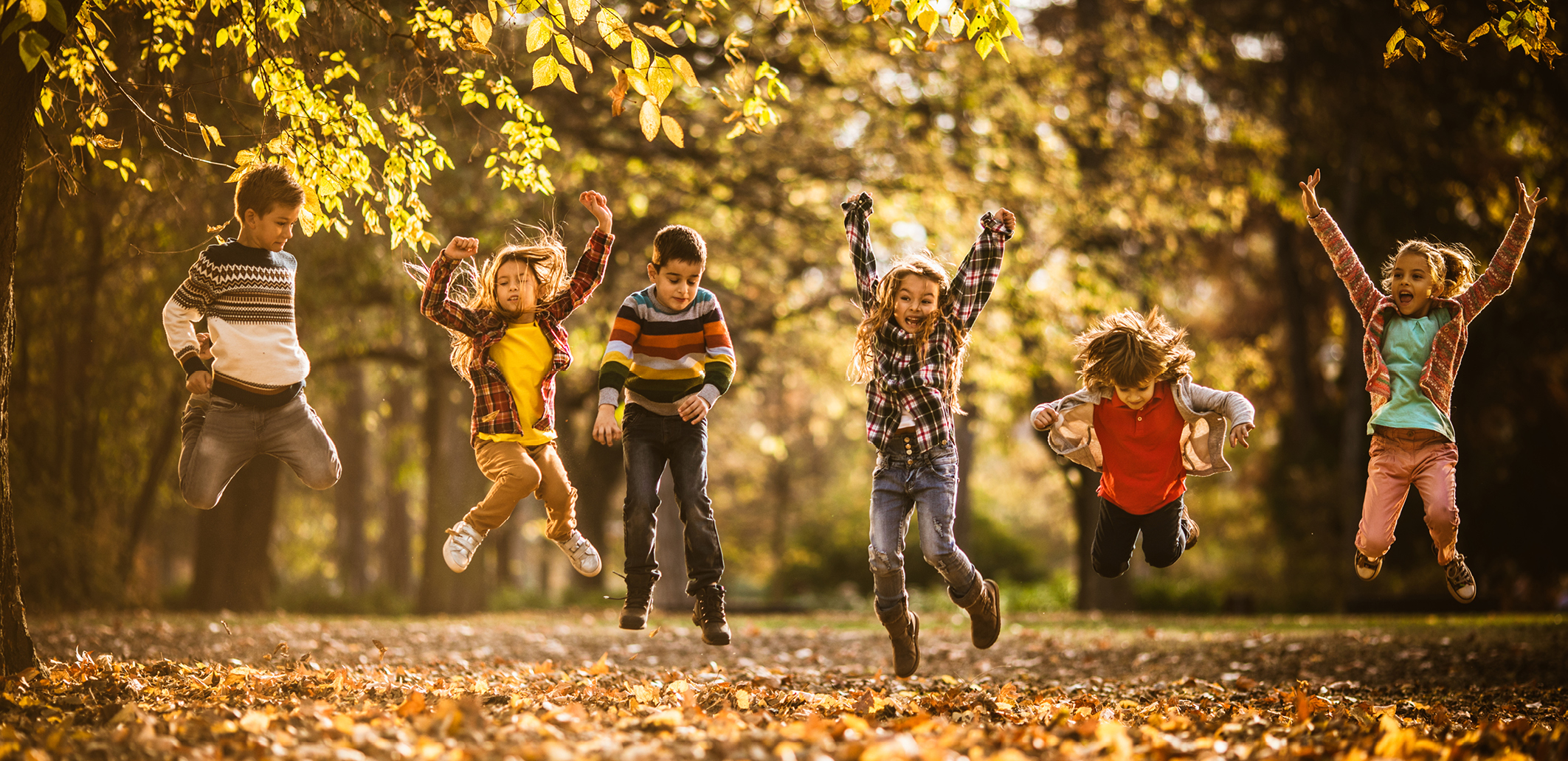 I grew up in a very large family in an average sized house. The way my Mom kept her sanity was to keep us out of the house as much as she could. Her answer to just about every question was "get outside and play". If I complained that I was bored, my brother was picking on me, my sister would not share or I was just whining in general, her answer was always the same: get outside and play.
Now that Covid has kept us inside for 7 months, it is the smartest advice of 2020. While some people have adapted well with indoor exercise routines on a regular basis, many have lost their level of fitness, and even possibly gained a few pounds. So as the beautiful cooler weather of October arrives with the beautiful changing of the leaves, it is time to get outside and appreciate all that Mother Nature has to offer us. Yes, I repeat for emphasis, get outside and play, and take your family and friends too.
The benefits of outdoor exercise are endless for both kids and adults. It is an opportunity to get a little vitamin D which may help you weather the Covid storm¹, the fresh air gives us a reason to stop and just take a big relaxing breath which calms the entire nervous system², and being in Mother Nature gives us positive mental benefits.³ Getting outside also introduces our body to new bacteria⁴ which is good since we have been overdoing it with an abundance of hand sanitizers and bleach every time we turn around.
Benefits of being outside
What is there to do outside? Raking leaves or conducting a fall clean up can help burn off a few calories and open your lungs to take in some refreshing outside air. If you're helping your kids play, you can create a mini bootcamp for them. Join  them in  a series of pushups, jumping jacks, and burpees and tell them to run around the house 3 times. Do this until they're tired. My parents were professionals at wearing us out so they could have some peace and quiet.
If that seems a little too much for your crew, take them for a walk, Walking is an opportunity to get moving, see some new scenery instead of the inside of your home, and possible even see a neighbor that you meant to check on.
How do you get your family and friends outside with you? Bribery always works, and it in that I mean a treat that features our favorite fall flavor of pumpkin. I have been making pumpkin bars for many years and they are always a hit. 
Debi Bernish's Pumpkin Bars
My recipe is slightly different that others you may have seen as I use extra virgin olive oil, instead of the standard vegetable oil, and I try reduce the sugar a little more every time I make it. The less sugarin your diet the better⁵, and even though it tastes good, it contains no nutrients, so less is more. This recipe contains cinnamon which naturally seems sweet, and it has a frosting, so there is really no need for an abundance of sugar in the bars themselves.
The smell of these bars baking always takes me back to those happy days with my many siblings.  Start making them-along with getting outside-part of your fall traditions.
Ingredients:
Bars
4 eggs
1 ½ C sugar
1 C Extra Virgin Olive Oil
1 14-15 oz can pumpkin puree
2 C flour
2 t baking powder
1 t baking soda
2 t cinnamon
½ t salt
Frosting
4 oz cream cheese, softened
½ C butter, softened
1 t vanilla
2 C confectioners' sugar (powered)
Directions
Preheat oven at 350 degrees. Prepare a 10 X 15 jelly roll pan with non-stick spray. (I use coconut oil)
1-In a large bowl, beat the eggs with a wire whip or fork until well mixed. Stir in sugar, olive oil, and pumpkin puree. Stir until well combined.
2-In a separate bowl, stir together the flour, baking powder, baking soda and salt. Add to the pumpkin mixture and stir until all ingredients are well combined. If there are tiny white lumps of flour, do not worry, they will bake away.
3-Spread the batter evenly over the prepared pan
4-Set the timer to bake for 23 minutes and check, or until top springs back easily.
 Frosting:
Cream together cream cheese, butter, vanilla with an electric mixer. Then add the powdered sugar gradually and beat until it is thoroughly mixed and a spreadable consistency. Spread evenly over the cooled bars. Cover and store in the refrigerator.
 Note: C=Cup, T=Tablespoon, t= teaspoon, oz=ounce
 About the author:
Debi Bernishlink opens in a new window is a health and wellness advocate and has a a Bachelor of Science degree in Nutrition and Food science. She is passionate about helping people make smarter eating choices for a healthier life. She will be a regular guest contributor to Supplementally Speaking, sharing nutrition insights and delicious recipes.
This blog is for entertainment purposes only and should not be considered medical advice.  
¹Reporter, E. (2020, September 25). Low Vitamin D Levels Tied to Odds for Severe COVID. Retrieved October 09, 2020, from https://www.webmd.com/lung/news/20200925/low-vitamin-d-levels-tied-to-higher-odds-for-severe-covidlink opens in a new window
²Cuda, G. (2010, December 06). Just Breathe: Body Has A Built-In Stress Reliever. Retrieved October 09, 2020, from https://www.npr.org/2010/12/06/131734718/just-breathe-body-has-a-built-in-stress-relieverlink opens in a new window
³11 Scientific Reasons Why Being in Nature is Relaxing. (2015, October 13). Retrieved October 09, 2020, from https://www.mentalfloss.com/article/60632/11-scientific-reasons-why-being-nature-relaxinglink opens in a new window
⁴ 11 Scientific Reasons Why Being in Nature is Relaxing. (2015, October 13). Retrieved October 09, 2020, from https://www.mentalfloss.com/article/60632/11-scientific-reasons-why-being-nature-relaxinglink opens in a new window
⁵ Olafsson, D. (2020, January 14). Top 9 Benefits of Reducing Sugar Intake. Retrieved October 09, 2020, from https://customhealthcenters.com/2018/06/26/top-9-benefits-of-reducing-sugar-intake/link opens in a new window