Combined Insurance participated in the Chicago K9s for Cops public art campaign by sponsoring a K9 display in the Magnificent Mile District in partnership with the Chicago Police Memorial Foundation. The initiative serves to memorialize Chicago's heroic fallen officers while supporting the families of police officers killed or catastrophically injured in the line of duty. The display of 50 hand-painted police K9s will be posted along the Magnificent Mile through Sept. 30. 
A leading provider of individual and group supplemental accident & health, disability, and life insurance products, and a Chubb company, Combined Insurance was founded in Chicago over 95 years ago by W. Clement Stone. The Combined Insurance K9 pays homage to its founder by showcasing one of his memorable quotes: "Aim for the moon. If you miss, you may hit a star."
With $100, a positive spirit and a vision to make the world a better place, Stone developed and grew the company into what it is today—still operating in the Chicago area and with agents throughout the United States, Canada and Puerto Rico.
"It's an honor to partner this year with the Chicago Police Memorial Foundation and participate in the K9s for Cops campaign," said Kevin Goulding, Combined Insurance President. "We are proud to support the families of the men and women who dedicate themselves to serving and protecting the Chicago community."
Established in 2004, the Chicago Police Memorial Foundation strengthens the relationship between the Chicago Police, its business and civic leaders and its citizenry. It allows the community to express gratitude to the fallen and injured officers' families for the ultimate sacrifice.
The inspiration behind the name for the Combined Insurance K9, "Rhett," came from Rhett Jacobs, Account Executive, at Combined Insurance.
"When I heard of the Chicago K9s for Cops public art campaign, I presented the idea of sponsoring a German Shepherd to Combined Insurance President, Kevin Goulding," said Rhett Jacobs. "At Combined, we are fortunate to have a leader that believes in the freedom of expression and gives back to the families of law enforcement in the local community. Seeing the K9 displayed on the Magnificent Mile is a dream that became a reality, and I am honored to take part in this experience."  
In 2017, the company partnered with more than 15 Chicago-based and national charitable organizations, providing both volunteer and financial support. Giving back to the communities in which employees live and work is a common purpose at Combined Insurance.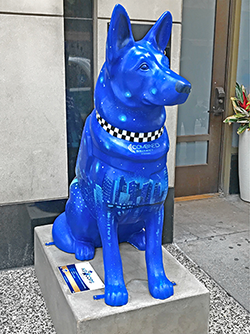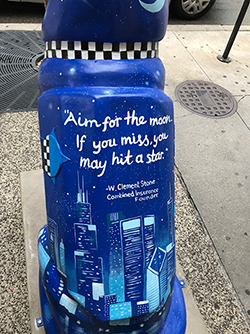 About Combined Insurance
Combined Insurance Company of America (Chicago, Ill.) is a leading provider of individual supplemental accident & health, disability, and life insurance products and a Chubb company. With a tradition of nearly 100 years of success, Combined Insurance is committed to making the world of supplemental insurance easy to understand. The company has an A+ rating by the Better Business Bureau and is one of Ward's Top 50® Performing Life-Health Insurance Companies. Combined Insurance is also a 2018 Top 10 Military Friendly® Employer named by G.I. Jobs Magazine—marking the seventh consecutive year on the Top 10 employer list and fourth consecutive year in the Top 5. 
About Chubb
Chubb is the world's largest publicly traded property and casualty insurance company. With operations in 54 countries, Chubb provides commercial and personal property and casualty insurance, personal accident and supplemental health insurance, reinsurance and life insurance to a diverse group of clients.  As an underwriting company, we assess, assume and manage risk with insight and discipline.  We service and pay our claims fairly and promptly.  The company is also defined by its extensive product and service offerings, broad distribution capabilities, exceptional financial strength and local operations globally.  Parent company Chubb Limited is listed on the New York Stock Exchange (NYSE: CB) and is a component of the S&P 500 index.  Chubb maintains executive offices in Zurich, New York, London and other locations, and employs approximately 31,000 people worldwide. Additional information can be found at: chubb.com.