In demonstration of its continued commitment to supporting U.S. military servicemen and women, Combined Insurance participated in a Statement of Support for the Employer Support of the Guard and Reserve (ESGR) signing event, hosted at the company's headquarters.
A leading provider of individual and group supplemental accident & health, disability, and life insurance products, and a Chubb company, Combined Insurance is proud to continue this Statement of Support Program and commitment from president, Kevin Goulding, who joined the company last December.
In addition to the signing, Bob Wiedower, Vice President of Sales Development and Military Programs, received two awards from the ESGR—the Service Member Patriot Award and the Employer Award, respectively—for his military service and commitment to giving back to our nation's veterans.
Wiedower is a decorated veteran himself, having served 22 years in the United States Marine Corps, where he retired as a Squadron Commanding Officer.
"It's an honor for me to personally receive these two awards, and I am even more proud to continue Combined Insurance's support and partnership with the ESGR," Wiedower said. "Our company is committed to supporting our veteran community in many ways, whether it is through meaningful employment, volunteerism or corporate donations. Our ongoing support and partnership with the ESGR is one example of this, and one we are truly proud of. 
Established in 1972, the ESGR is a Department of Defense program that aims to foster a culture in which all employers support and value the employment and military service of members of the National Guard and Reserve in the United States. The ESGR's Statement of Support Program's intent is to increase employer support by encouraging employers to act as advocates for employee participation in the military.
Combined Insurance has an A+ (Superior) financial strength rating by A.M. Best, one of the world's top insurance rating firms. The company has also been recognized for seven consecutive years on Ward's 50® Top Performing Health-Life Insurance Companies list. Furthermore, Combined Insurance has received numerous accolades throughout the years for its veteran-friendly hiring practices. Combined Insurance was named a Top 5 Military Friendly® Employer in 2018 by G.I. Jobs—marking the seventh consecutive year that Combined Insurance has made the Top 10 employer list and fourth consecutive year in the Top 5.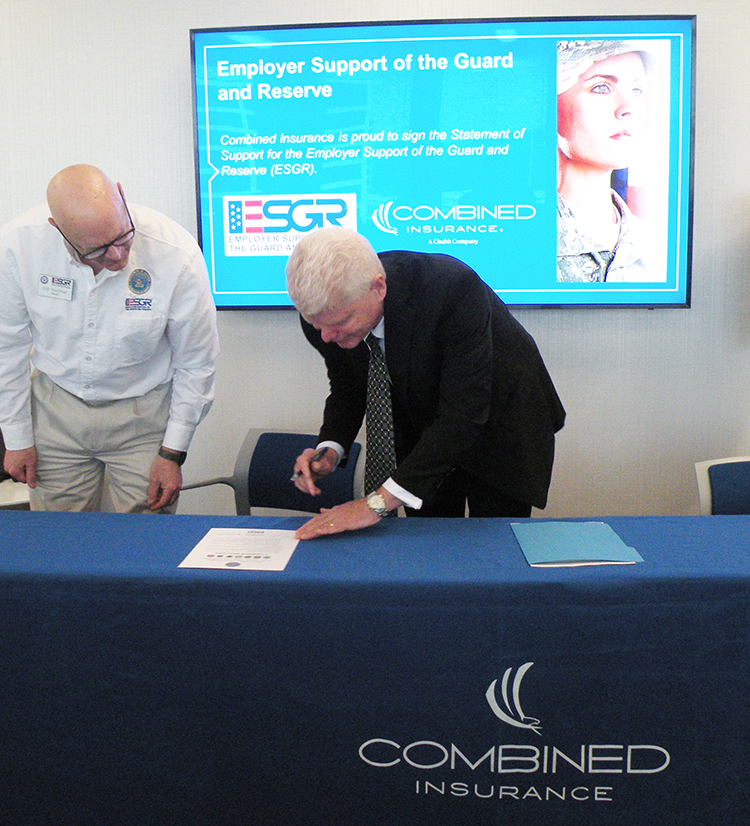 About Combined Insurance
Combined Insurance Company of America (Chicago, Ill.) is a leading provider of individual supplemental accident & health, disability, and life insurance products and a Chubb company. With a tradition of nearly 100 years of success, Combined Insurance is committed to making the world of supplemental insurance easy to understand. The company has an A+ rating by the Better Business Bureau and is one of Ward's Top 50® Performing Life-Health Insurance Companies. Combined Insurance is also a 2018 Top 10 Military Friendly® Employer named by G.I. Jobs Magazine—marking the seventh consecutive year on the Top 10 employer list and fourth consecutive year in the Top 5. 
About Chubb
Chubb is the world's largest publicly traded property and casualty insurance company. With operations in 54 countries, Chubb provides commercial and personal property and casualty insurance, personal accident and supplemental health insurance, reinsurance and life insurance to a diverse group of clients.  As an underwriting company, we assess, assume and manage risk with insight and discipline.  We service and pay our claims fairly and promptly.  The company is also defined by its extensive product and service offerings, broad distribution capabilities, exceptional financial strength and local operations globally.  Parent company Chubb Limited is listed on the New York Stock Exchange (NYSE: CB) and is a component of the S&P 500 index.  Chubb maintains executive offices in Zurich, New York, London and other locations, and employs approximately 31,000 people worldwide. Additional information can be found at: chubb.com.