In recognition for its achievements, growth and commitment to the community throughout 2017, Combined Insurance has been named one of 26 Chicago-area companies and organizations to receive the Annual Award for Business Excellence from The Daily Herald Business Ledger.   
As a leading provider of individual and group supplemental accident & health, disability, and life insurance products, and a Chubb company, Combined Insurance has had a Chicago area presence since its founding nearly 100 years ago. W. Clement Stone started the company with $100, a positive spirit and a vision to make the world a better place. Stone developed and grew the company into what it is today—still operating in the Chicago area and with agents throughout the United States, Canada and Puerto Rico. 
The Daily Herald Business Ledger is the leading provider of business news and information about businesses and the economy in suburban Chicago. The company publishes a bi-weekly newspaper and also distributes information through special publications, an Internet site and a daily e-mail newsletter.
The "Business Excellence" award was presented at a reception on March 29 at the Danada House in Wheaton, Ill. Combined Insurance was one of four companies honored in the "Large Company" category.
"We thank The Business Ledger for honoring our organization and employees with this great award for business excellence," said Ken McIntyre, Senior Vice President of North America Operations at Combined Insurance. "This recognition is a testament to the products and services we provide to our customers throughout the Chicago area and beyond."
Combined Insurance has an A+ (Superior) financial strength rating by A.M. Best, one of the world's top insurance rating firms. The company has also been recognized for seven consecutive years on Ward's 50® Top Performing Health-Life Insurance Companies list. Furthermore, Combined Insurance has received numerous accolades throughout the years for its veteran-friendly hiring practices. Combined Insurance was named a Top 5 Military Friendly® Employer in 2018 by G.I. Jobs—marking the seventh consecutive year that Combined Insurance has made the Top 10 employer list and fourth consecutive year in the Top 5.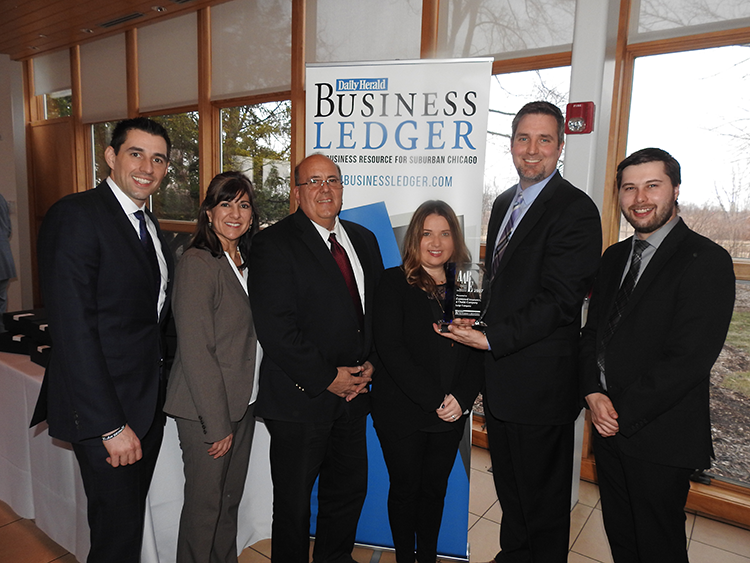 About Combined Insurance
Combined Insurance Company of America (Chicago, Ill.) is a leading provider of individual supplemental accident & health, disability, and life insurance products and a Chubb company. With a tradition of nearly 100 years of success, Combined Insurance is committed to making the world of supplemental insurance easy to understand. The company has an A+ rating by the Better Business Bureau and is one of Ward's Top 50® Performing Life-Health Insurance Companies. Combined Insurance is also a 2018 Top 10 Military Friendly® Employer named by G.I. Jobs Magazine—marking the seventh consecutive year on the Top 10 employer list and fourth consecutive year in the Top 5. 
About Chubb
Chubb is the world's largest publicly traded property and casualty insurance company. With operations in 54 countries, Chubb provides commercial and personal property and casualty insurance, personal accident and supplemental health insurance, reinsurance and life insurance to a diverse group of clients.  As an underwriting company, we assess, assume and manage risk with insight and discipline.  We service and pay our claims fairly and promptly.  The company is also defined by its extensive product and service offerings, broad distribution capabilities, exceptional financial strength and local operations globally.  Parent company Chubb Limited is listed on the New York Stock Exchange (NYSE: CB) and is a component of the S&P 500 index.  Chubb maintains executive offices in Zurich, New York, London and other locations, and employs approximately 31,000 people worldwide. Additional information can be found at: chubb.com.