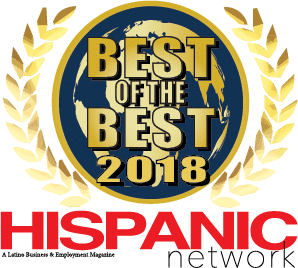 Hispanic Network Magazine (HNM) has named Combined Insurance, a leading provider of individual supplemental accident, disability, health and life insurance products, and a Chubb company, as one of the top diversity employers in the nation for 2018. This is the company's fourth consecutive year on the HNM Best of the Best Lists, which identifies organizations that embrace a wide range of perspectives, attract the very best talent and understand the demographics of the marketplace and its needs.
This year alone, 34 percent of the company's new staff hires are bilingual in Spanish and English.
"We are honored to be named a top diversity employer for the fourth year in a row," said Rolando 'Roly' Orama, SVP of Claims at Combined Insurance. "At Combined, we value the talent that bilingual individuals bring to the work force, and we recognize the importance of serving an increasing number of customers in their native language and understanding their diverse cultures."
Orama is a Senior Advisor to Chubb's Multicultural Business Roundtable—Mosaic and also a mentor for the Claim Diversity Council. He also served as a guest speaker and is a current member for the Combined Latino Resource Group at their Chicago headquarters.
The company also donates and sponsors various charitable events for organizations, such as Casa Central, Casa Norte, HACE (Hispanic Alliance for Career Enhancement, and Mujeres Latinas en Accion.
Founded by W. Clement Stone in 1922, the charitable endeavors at Combined Insurance continue to build off Stone's tradition and legacy of "making the world a better place."
Hispanic Network Magazine, now celebrating its 26th year of diversity, polled hundreds of Fortune 1000 companies for its 2018 Best of the Best evaluations. HNM is one of the nation's fastest-growing magazines, promoting the advancement of Hispanics in all aspects of education, business and employment to ensure equal opportunity.
For more information about bilingual careers at Combined Insurance, visit combinedinsurance.com or visit our Combined Latino Facebook page to learn more.
About Combined Insurance
Combined Insurance Company of America (Chicago, Ill.) is a leading provider of individual supplemental accident & health, disability, and life insurance products and a Chubb company. With a tradition of nearly 100 years of success, Combined Insurance is committed to making the world of supplemental insurance easy to understand. The company has an A+ rating by the Better Business Bureau and is one of Ward's Top 50® Performing Life-Health Insurance Companies. Combined Insurance is ranked the number one Military Friendly® Employer in the over $1B revenue category for 2019 by VIQTORY. This is the company's eighth consecutive year on the top 10 list and fifth consecutive year in the top 5—Combined Insurance was previously named the number one Military Friendly® Employer in the nation for 2015 and 2016.
About Chubb
Chubb is the world's largest publicly traded property and casualty insurance company. With operations in 54 countries, Chubb provides commercial and personal property and casualty insurance, personal accident and supplemental health insurance, reinsurance and life insurance to a diverse group of clients.  As an underwriting company, we assess, assume and manage risk with insight and discipline.  We service and pay our claims fairly and promptly.  The company is also defined by its extensive product and service offerings, broad distribution capabilities, exceptional financial strength and local operations globally.  Parent company Chubb Limited is listed on the New York Stock Exchange (NYSE: CB) and is a component of the S&P 500 index.  Chubb maintains executive offices in Zurich, New York, London and other locations, and employs approximately 31,000 people worldwide. Additional information can be found at: chubb.com.