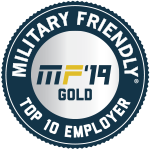 Combined Insurance, a Chubb company, announced today that it has earned VIQTORY's highest honor as the nation's number one Military Friendly® Employer in the over $1B revenue category for 2019. This is the company's eighth consecutive year on the top 10 employer list and fifth consecutive year in the top five.  
"It is truly an honor to once again be named the nation's number one Military Friendly® Employer for 2019," said Bob Wiedower, Vice President of Sales Development and Military Programs at Combined Insurance. "Our company is committed to providing veterans, military spouses and their family members an opportunity to serve and use the skills developed throughout their service to build a meaningful career with us. We value the qualities that veterans can bring to the workforce, and look forward to the positive contributions veterans bring to our organization and our communities." 
Since launching its veteran recruiting program in 2010, the company has:
Hired more than 4,450 veterans, military spouses and their family members
Announced plans to hire 2,000 more veterans by the end of 2019
Joined the Department of Defense Military Spouse Employment Partnership
Announced the company will grant any veteran or military spouse a job interview
In addition to providing meaningful employment, Combined Insurance also gives back to military and veteran-focused charities through employee volunteerism and corporate donations. The company has given back to organizations, such as Luke's Wings, The Fisher House Foundation, USO of Illinois and Heartland Alliance – Support Services for Veteran Families (SSVF).
The Military Friendly® Employers list is created each year based on extensive research using public data sources for thousands of federal contractors nationwide, input of military employees and responses to the proprietary, data driven Military Friendly® Employers survey from participating companies. 
The survey questions, methodology, criteria and weightings were developed with the assistance of an independent research firm and an advisory council of educators and employers. Data calculations and tabulations were independently evaluated for completeness and accuracy by Ernst & Young.
Combined Insurance will be showcased along with other 2019 Military Friendly® Employers in the December issue of G.I. Jobs® magazine, the January 2019 issue of Military Spouse Magazine. The list of all the 2019 Military Friendly ® Employers can be found at MilitaryFriendly.com.
For more information about how Combined Insurance is working to support military spouses in fulfilling their career goals or to learn about our career opportunities, visit combinedinsurance.com/military.
About Combined Insurance
Combined Insurance Company of America (Chicago, Ill.) is a leading provider of individual supplemental accident & health, disability, and life insurance products and a Chubb company. With a tradition of nearly 100 years of success, Combined Insurance is committed to making the world of supplemental insurance easy to understand. The company has an A+ rating by the Better Business Bureau and is one of Ward's Top 50® Performing Life-Health Insurance Companies. Combined Insurance is also a 2018 Top 10 Military Friendly® Employer named by G.I. Jobs Magazine—marking the seventh consecutive year on the Top 10 employer list and fourth consecutive year in the Top 5. 
About Chubb
Chubb is the world's largest publicly traded property and casualty insurance company. With operations in 54 countries, Chubb provides commercial and personal property and casualty insurance, personal accident and supplemental health insurance, reinsurance and life insurance to a diverse group of clients.  As an underwriting company, we assess, assume and manage risk with insight and discipline.  We service and pay our claims fairly and promptly.  The company is also defined by its extensive product and service offerings, broad distribution capabilities, exceptional financial strength and local operations globally.  Parent company Chubb Limited is listed on the New York Stock Exchange (NYSE: CB) and is a component of the S&P 500 index.  Chubb maintains executive offices in Zurich, New York, London and other locations, and employs approximately 31,000 people worldwide. Additional information can be found at: chubb.com.
About VIQTORY:
Founded in 2001, VIQTORY is a service disabled, veteran owned small business (SDVOSB) that connects the military community to civilian employment, educational and entrepreneurial opportunities through its G.I. Jobs ® and Military Friendly ® brands. VIQTORY and its brands are not a part of or endorsed by the U.S. Dept of Defense or any federal government entity. Learn more about VIQTORY at www.victorymedia.com.