Combined Insurance, a leading provider of individual supplemental accident, disability, health and life insurance products, and a Chubb company, hosted its annual charity golf outing on September 19 and raised $19,500 to benefit USO of Illinois.
Nearly 100 Combined Insurance employees, vendors and guests came together at Old Orchard Country Club in Mount Prospect to golf and give back. The event kicked off with the presentation of colors by Marine Recruiting Station Chicago and the singing of our national anthem by Alleece Baker, as well as remarks from Alison Ruble, President and CEO of USO of Illinois.
"Combined Insurance colleagues enjoyed a beautiful day of golf and goodwill to support USO of Illinois and all the terrific work they do for our Active Duty, Guard and Reserve military and their families," said Bob Wiedower, Vice President of Sales Development and Military Programs for Combined Insurance. "I am so proud that we were able to raise so much money in one day."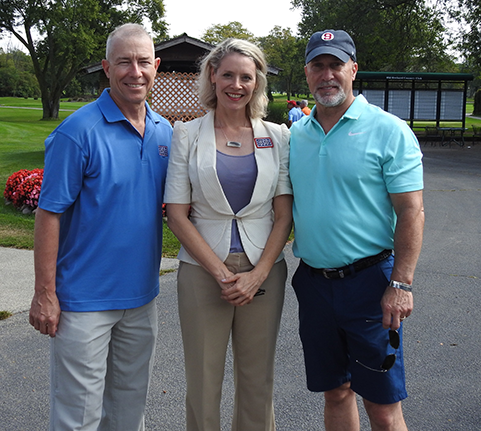 Wiedower is a decorated veteran, having served 22 years in the United States Marine Corps, where he retired as a Squadron Commanding Officer. He also sits on the board of directors for USO of Illinois.
The USO has served our nation's military for over 75 years. In Illinois, the organization touches the lives of more than 318,000 service members and their families annually. Their mission is to keep military service members connected to family, home and country throughout their service to the nation, which they do through hundreds of programs and services, and five USO centers.
"We are incredibly grateful for the support of Combined Insurance and Bob Wiedower's time, energy and passion as a board member," Ruble said. "We salute our partners at Combined Insurance for helping us make a difference in the lives of service members and their families."
Earlier this year, Combined announced plans to hire 2,000 more veterans by the end of 2019 as part of its veteran recruiting program. The company launched the program in 2010, and since 2013, the company has hired 4,200 veterans and their family members.
In addition to providing meaningful employment, Combined Insurance also gives back to military and veteran-focused charities through employee volunteerism and corporate donations. Along with USO of Illinois, the company has given back and provided support to numerous military and veteran-focused organizations, such as Luke's Wings, The Fisher House Foundation and Heartland Alliance – Support Services for Veteran Families (SSVF).
Combined Insurance was ranked once again as a Top Military Friendly® Employer for 2017 by G.I. Jobs Magazine. This is the sixth consecutive year that Combined Insurance has made the list and third consecutive year in the Top 5; the company was previously named the Number One Military Friendly® Employer in the nation in 2015 and 2016. Combined was also recently ranked a Top Military Spouse Friendly Employer by Military Spouse Magazine for the third year in a row and was recently ranked on the Military Times "Best for Vets" employers list.
For more information about veteran careers at Combined Insurance, visit our military careers page.
About Combined Insurance
Combined Insurance Company of America (Chicago, Ill.) is a leading provider of individual supplemental accident, disability, health, and life insurance products and a Chubb company. With a tradition of nearly 100 years of success, Combined Insurance is committed to making the world of supplemental insurance easy to understand. The company has an A+ rating by the Better Business Bureau and is one of Ward's Top 50® Performing Life-Health Insurance Companies. Combined Insurance is also a 2017 Top 10 Military Friendly® Employer named by G.I. Jobs Magazine—marking the fifth consecutive year on the Top 10 employer list and third consecutive year in the Top 5. In New York, products are underwritten by Combined Life Insurance Company of New York (Latham, N.Y.) For more information, please visit combinedinsurance.com.
About Chubb
Chubb is the world's largest publicly traded property and casualty insurance company. With operations in 54 countries, Chubb provides commercial and personal property and casualty insurance, personal accident and supplemental health insurance, reinsurance and life insurance to a diverse group of clients.  As an underwriting company, we assess, assume and manage risk with insight and discipline.  We service and pay our claims fairly and promptly.  The company is also defined by its extensive product and service offerings, broad distribution capabilities, exceptional financial strength and local operations globally.  Parent company Chubb Limited is listed on the New York Stock Exchange (NYSE: CB) and is a component of the S&P 500 index.  Chubb maintains executive offices in Zurich, New York, London and other locations, and employs approximately 31,000 people worldwide. Additional information can be found at: chubb.com.
About USO of Illinois
The USO strengthens America's military service members by keeping them connected to family, home and country throughout their service to the nation. Supporting more than 318,000 troops and their families every year, the USO of Illinois is a civilian 501(c)(3) non-profit that is supported solely by the generosity of the American people. For more information about the USO of Illinois, visit usoofillinois.org.